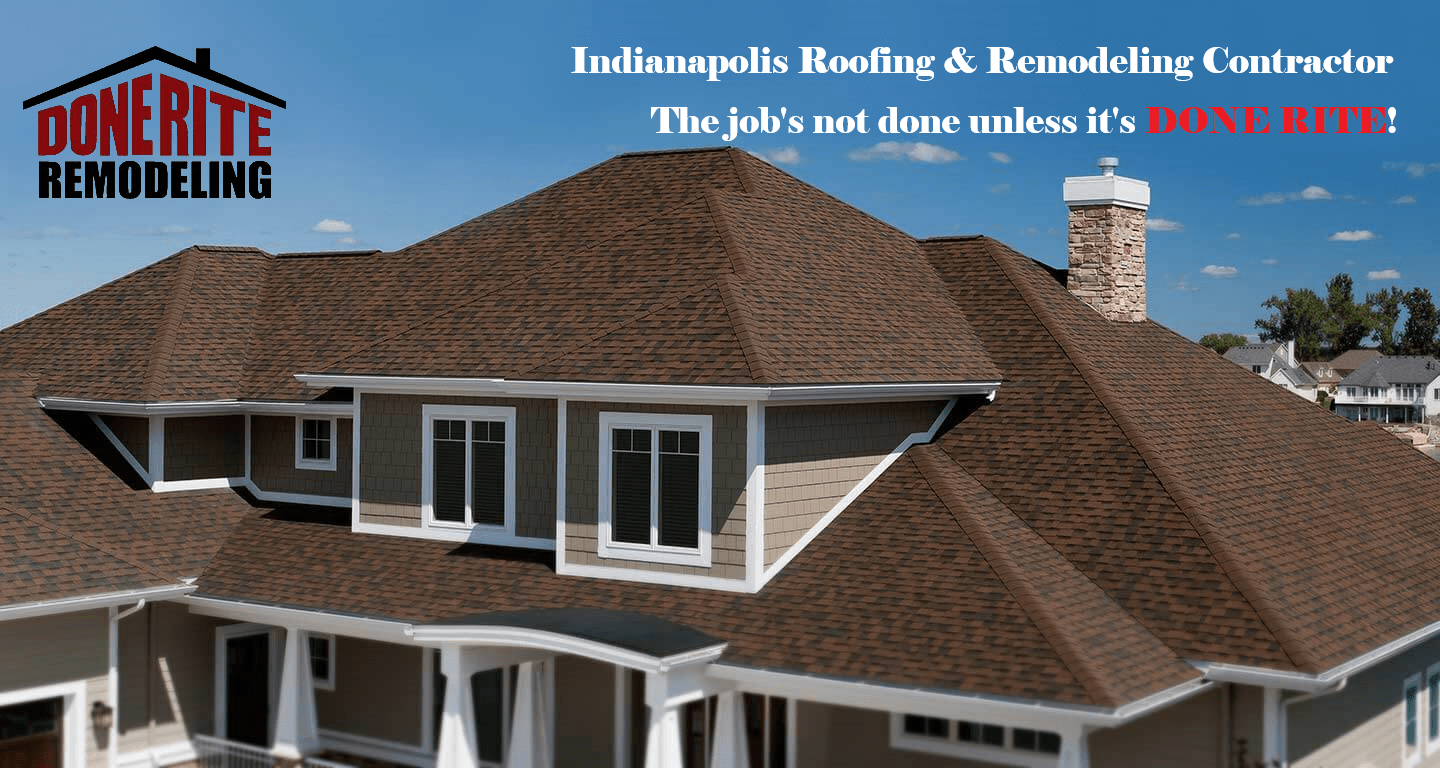 Southport Roofing Company
Southport Roofing Contractor
Best roofer Southport Indiana!
Southport, Indiana is one of DONE RITE Remodeling & Roofing Contractor favorite places to work for more than 20 years. The people are amazingly friendly, and the logistics of getting men and materials in and out of Southport are far better than many other suburbs of Indianapolis. Whatever type of roofing project you've got in mind, the professional roofers from DONE RITE Remodeling & Roofing Contractors can handle your challenge with care, precision, and an attention to detail not found anywhere else within our industry. With countless square feet of roofing installed, we're Southport's best choice for excellent roofing service.
When you need quality roofing services from someone you can trust, you must turn to DONE RITE Remodeling & Roofing Company. We're a family-owned operation with over three decades of delivering fantastic workmanship at affordable prices. Our reputation is built on trustworthy communication, and our incomparable devotion to services DONE RITE, so put your confidence in the company with over 30 years of doing things the way they must be done and never worry if you made the smart choice in choosing a roofer. So, call DONE RITE Remodeling & Roofing Company today!
Why

DONE RITE

Remodeling & Roofing Contractor in Southport, Indiana?
Best Price Guarantee.
Satisfaction Guaranteed!
Professional, Same-Day Service.
Fully Licensed, Insured & Bonded.
Necessary Resources to Ensure Satisfaction.
30+ Years of Experience as a roofer with Roofing Systems.
Excellent Reviews on Google, Yelp! & Angie's List.
Recommendations Based on Expertise – Not Cost.
Our Services – Southport, Indiana
New Roof Installation
Re-roofs
Roof Repair
Roof Maintenance
Emergency Roof Repair
Our Roofing Systems – Southport, Indiana
EPDM Roofing
Asphalt Shingles
Sheet Metal Roofs
Single-Ply Roofing
Southport New Roof Installation – Southport, Indiana
Your Southport new roofing installation project should get the best roofing contractor and a team of expert roofers. That's just what you get when you call (317) 882-2770 to speak with a specialist from DONE RITE Remodeling & Roofing Contractors. We'll visit your home or place of business and offer an in depth inspection of your existing roof before discussing your wants and needs for your new roof installation. Together with your input, we'll provide an estimate for services that clearly explains all the components of a proper installation on your Southport property. You'll be kept within the loop in all aspects with regular updates on the work, and you will always feel like you're the boss. After all, it's your property, and we're there to work with you, so make the best decision possible for your new roofing project – DONE RITE Remodeling & Roofing Contractors.
Southport Roof Repairs – Southport, Indiana
A Southport roofing repair project takes a degree of skill and workmanship not found on most roofing crews in town as each current building material has its own specific traits which must be understood and managed to deliver a long lasting, dependable repair. DONE RITE Remodeling & Roofing Company has the most experienced crews in Southport and knows exactly how to handle each material in order to deliver the correct repair. And, our work is backed by our guarantee, so, you're never left without a perfect repair – regardless of the type or complexity. Make the right choice and call (317) 882-2770 and let the experts from DONE RITE Remodeling & Roofing Company get you covered.
Southport Roof Maintenance – Southport, Indiana
Roof maintenance is very critical to more than commercial roofing. It should be considered on any modern roofing and should be considered from the day you own your home or business; especially if you'd like your roof to perform for many years to come. DONE RITE Remodeling & Roofing Contractor offers unmatched proactive roofing maintenance programs for all roofing types with affordable rates and scheduled service calls performed by expert roofers. So, you will be able to forget about the roofing and let us worry about, whatever comes your way. We'll catch little problems before they ever become larger ones and keep your roofing lasting throughout its intended life – maybe even longer! Call (317) 882-2770 today and learn about the difference maintenance play's in your roofing's lifespan!
Southport Emergency Repair Service – Southport, Indiana
If you're a resident of Southport and something unexpected happens – a storm in the middle of the night etc. – and you need emergency roofing repairs before the inside of the building, or maybe the rest of the roof, is further damaged, call the experts at DONE RITE Remodeling & Roofing Company. We specialize in emergency roof repairs, and can promptly appraise the damage and start repairs right away. No matter what kind of building material – we have the tools and know-how to repair any issues and stop them in their tracks with the best roofers in town.
If you're in Southport or the surrounding communities, and have roofing needs of any kind, from emergency roof leaks to new roof installations, there's only one name you need to know – DONE RITE Remodeling & Roofing Company. Our 30+ years of experience and satisfaction guarantee make us the company to trust for all of your residential, commercial, governmental, and institutional roofing projects. Call (317) 882-2770, use our contact form below, or send an email today and learn more about our products and services.
Don't confuse us with copycats. We're in the

RED

trucks.
And remember.
The job's not done unless it's

DONE RITE

!
Click below to see our bath &amp basement remodeling commercial.