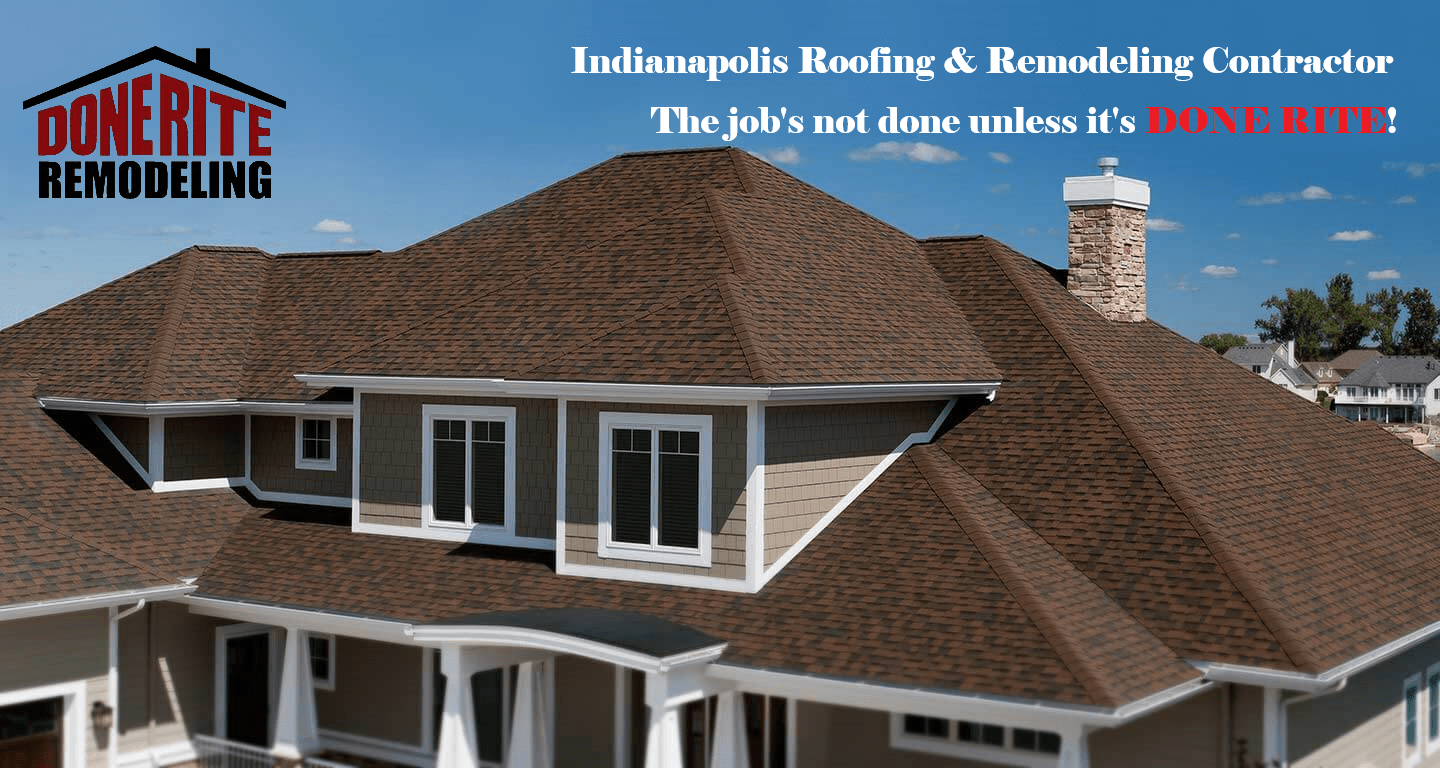 Plainfield Roofing Company
Plainfield Roofing Contractor
Best roofer Plainfield Indiana!
Plainfield, Indiana represents one of the most centrally located cities in Indiana where our full range of services is offered. DONE RITE Remodeling & Roofing Company has been assisting the great people there for 20 years plus with no stopping in sight – thankfully. With a diverse population, and across-the-board architectural styles, Plainfield is one of our favorite places to work. Far enough away from Indianapolis to be quieter and less hectic than our normal worksites, roofing in Plainfield is altogether different from a professional point of view – easier is maybe a better word. All of the logistical nightmares we face when working in the capitol are lessened to such an extent that working in and around Plainfield is almost like a vacation from the ordinary for our roofers. As such, all you'll see when we're on your property is smiles and the work we do will put a smile on your face – guaranteed.
DONE RITE Remodeling & Roofing Contractor, a shingle and metal roofing contractor, provides a broad range of services to commercial, industrial, governmental, and institutional clients throughout Plainfield, the surrounding communities in Indiana, and Indianapolis. For over 20 years, we've been delivering high-quality, professional services to Plainfield clients. Our licensed, bonded and insured roofing company possess the training, the experience, and the extraordinary skills needed for efficient roofing application, and use only the finest products, tools, supplies, and equipment exclusively sold to licensed contractors. When you need a free quote, answers to your roofing questions, or emergency service, there's only one name you need to know – DONE RITE Remodeling & Roofing Contractor. The best roofer in town!
Why DONE RITE Remodeling & Roofing Company in Plainfield, Indiana?
Best Price Guarantee.
Satisfaction Guaranteed!
Professional, Same-Day Service.
Fully Licensed, Insured & Bonded.
Necessary Resources to Ensure Satisfaction.
30+ Years of Experience as a roofer with Roofing Systems.
Excellent Reviews on Google, Yelp! & Angie's List.
Recommendations Based on Expertise – Not Cost.
Our Services – Plainfield, Indiana
New Roof Installation
Re-roofs
Roof Repair
Roof Maintenance
Emergency Roof Repair
Our Roofing Systems – Plainfield, Indiana
EPDM Roofing
Asphalt Shingles
Sheet Metal Roofs
Single-Ply Roofing
Plainfield New Roof Installation – Plainfield, Indiana
When you have a home or business in Plainfield, and you're starting to have trouble with your roofing, a new roof installation from DONE RITE Remodeling & Roofing Contractor is the best way to ensure everything that's wrong with your current roofing is 100% remedied. Though some roofing may accompany a sizeable cost, it could actually save money at the end of the day when the prices of repairs, damage, and poor energy efficiency are taken into consideration. There's also an entire lack of the traditional stresses related to ongoing roofing troubles. Call DONE RITE Remodeling & Roofing Contractor today to learn more about the benefits of a new roof installation and schedule a free consultation with one of our talented roofing experts.
Plainfield Roof Repairs – Plainfield, Indiana
Anyone who has ever owned a Plainfield property has had to deal with roof repairs at some point or other. It's just a fact of life and ownership in the Midwest. With the weathering and temperature fluctuations we experience it's amazing roofing does not deteriorate sooner. Part of extending your roofing's lifespan is working with a reputable, experienced, expert roofer like DONE RITE Remodeling & Roofing Company for all of the repair work that comes up. Using a professional roofer means you'll depend upon the repairs to do the work they were designed for and make certain that the techniques and tools used were the appropriate ones for your needs. No matter the size of the issue, DONE RITE Remodeling & Roofing Company has the tools and the talent to take care of your trouble in no time. Plus, we stand behind all of our work with our satisfaction guarantee.
Plainfield Roof Maintenance – Plainfield, Indiana
DONE RITE Remodeling & Roofing Contractor proactive roof maintenance programs can extend the lifetime of your Plainfield roofing by years and ensure that any minor issues never become major ones. With our many years of experience we will diagnose the trouble areas and apply the necessary repairs immediately, or schedule a repair job for a more suitable time. DONE RITE Remodeling & Roofing Contractor has proven to be the leading provider of roof maintenance for a great many residential, commercial, industrial, governmental, and institutional entities throughout Plainfield and the surrounding communities – including Indianapolis. Contact DONE RITE Remodeling & Roofing Contractor today to discuss the details of our Plainfield Roof Maintenance Plans.
Plainfield Emergency Repair Service – Plainfield, Indiana
When you live in Plainfield, you live in an area prone to inclement weather and unpredictable precipitation – not to mention possible strong winds. All of those factors can cause serious problems for your roofing, and, if left untreated, suffer failure at the worst possible time. When something unforeseen happens – a storm within the middle of the night as an example – and in need of emergency roof repairs before the inside of the building, or even the rest of the roof, is damaged further, call the roofing experts at DONE RITE Remodeling & Roofing Company. We specialize in emergency roof repairs, and will quickly assess the damage and begin repairs. No matter what type – we have the tools, roofers and the know-how to fix the problem and stop the damage in its tracks.
Ice Dam Prevention Solutions – Plainfield, Indiana
A Plainfield ice dam forms when snow begins to melt on your roof and the water from the melting runs to the edge where it encounters colder air. This causes the water to refreeze again and again building on itself until a dam forms. No matter what happens next, it'll be bad for everybody . The best way to safeguard against this type of issue is regular Plainfield snow removal service from DONE RITE Remodeling & Roofing Contractor. One call to our dedicated roofing ice dam specialists and you'll be able to breathe easier knowing that giant ice formation dangling from your roofing has been removed safely and completely.
If you're in Indianapolis or the surrounding areas, and have roofing problems of any kind, from emergency roof leaks to new roof installations, there's only one roofer you need to know – DONE RITE Remodeling & Roofing Company. Our 30+ years of experience and satisfaction guarantee make us the roofing contractor to trust for all of your residential, commercial, governmental, and institutional roofing projects. Call (317) 882-2770, use our contact form below, or send an email to seek out more information about our products and services.
Don't confuse use with copycats. We're in the RED trucks.
And remember.
The job's not done unless it's DONE RITE!