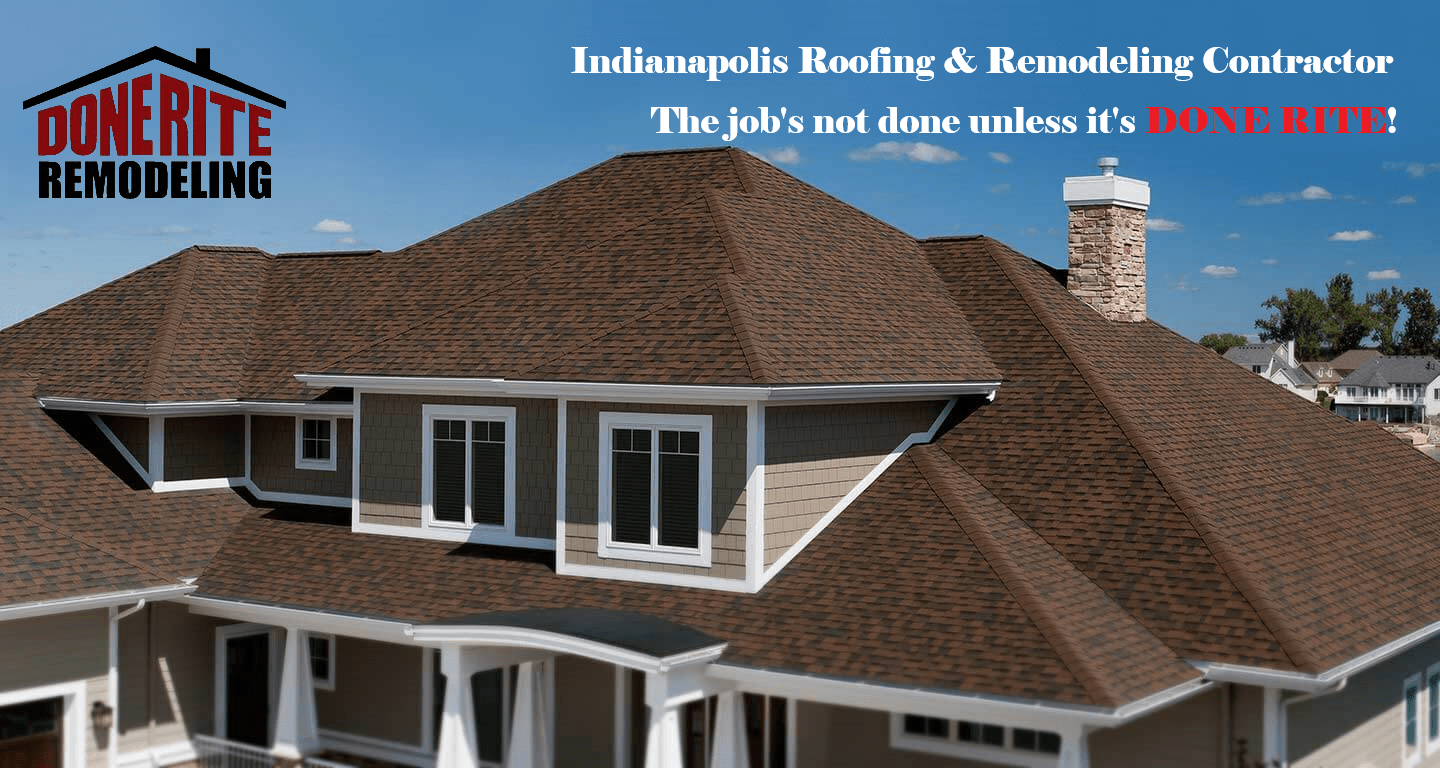 Noblesville Roofing Company
Noblesville Roofing Contractor
Best roofer Noblesville Indiana!
DONE RITE Remodeling & Roofing Company has been the preferred roofing contractor company for over 20 years and counting with no end in sight. Why? Because were an expert roofer and show a commitment to our clients found nowhere in our roofing industry. The care and attention with which we execute our work, the respect and kindness we show to each and every person we see onsite, and also the dedication we show long after we're gone – to our work and to our customers. Noblesville residential, commercial, and industrial customers can depend on DONE RITE Remodeling & Roofing Company for all their roofing needs. One call and you're covered (317) 882-2770!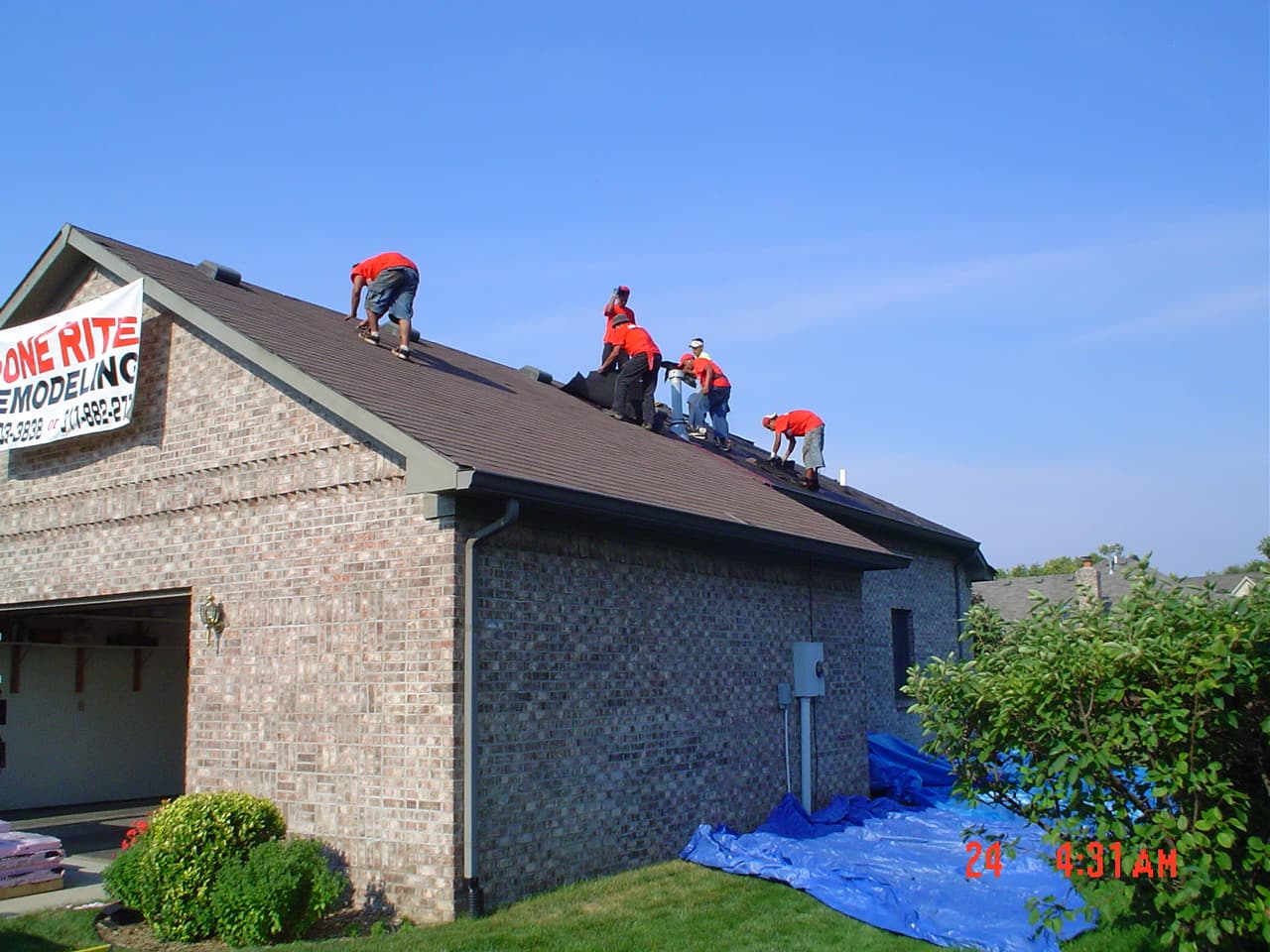 Whether you need a simple roofing repair, a aggressive maintenance service plan, or a complete new roofing installation, there's no greater choice than DONE RITE Remodeling & Roofing Contractor for incredible results and reliability. We have the experienced roofers, resources, and far more commitment to a job DONE RITE than any other roofing contractor you'll find in Noblesville, so make the best choice for your home or business with a call to an expert roofer from DONE RITE Remodeling & Roofing Contractor.
Why DONE RITE Remodeling & Roofing Company in Noblesville, Indiana?
Best Price Guarantee.
Satisfaction Guaranteed!
Professional, Same-Day Service.
Fully Licensed, Insured & Bonded.
Necessary Resources to Ensure Satisfaction.
30+ Years of Experience as a roofer with Roofing Systems.
Excellent Reviews on Google, Yelp! & Angie's List.
Recommendations Based on Expertise – Not Cost.
Our Services – Noblesville, Indiana
New Roof Installation
Re-roofs
Roof Repair
Roof Maintenance
Emergency Roof Repair
Our Roofing Systems – Noblesville, Indiana
EPDM Roofing
Asphalt Shingles
Sheet Metal Roofs
Single-Ply Roofing
Noblesville New Roof Installation – Noblesville, Indiana
When you're in need of the best roofing services for your Noblesville new roof installation then you need to call (317) 882-2770 and talk to the leading roofing experts from DONE RITE Remodeling & Roofing Contractor. We can assist you with everything from selecting materials to maintenance for the years to come after our work is complete. You can set back and relax knowing the best roofers in all Noblesville are on the job. With expert technicians, the best quality materials, and a dedication to efficiency, you will not find a better roofing contractor, so get the best roof imaginable with the team from DONE RITE Remodeling & Roofing Contractor – any roof material, any size job.
Noblesville Roof Repairs – Noblesville, Indiana
Noblesville roof repairs are best when they're provided by DONE RITE Remodeling & Roofing Company team of expert roofers with all the licensing, insurance, and experience you need to get a great result. We specialize in all the latest materials and haven't met a roofing repair challenge we couldn't overcome in more than two decades of Noblesville roofing. That makes us the best choice you have no matter what kind of roofing material you're house or business uses, so pick up the phone and call (317) 882-2770 for the best quality roof repairs in town. You'll be very happy you did!
Noblesville Roof Maintenance – Noblesville, Indiana
No matter what kind of property you have in Noblesville, whether it's residential, commercial, industrial, governmental, or institutional, DONE RITE Remodeling & Roofing Contractor has the perfect roof maintenance plan for you at a cost you can afford. We specialize in keeping your roof going strong longer and do it with minimal imposition and utmost results. It's all about catching small issues before they ever have a chance to become big ones. So, call (317) 882-2770 to discuss roof maintenance for your Noblesville property today!
Noblesville Emergency Repair Service – Noblesville, Indiana
When your roof goes bad in the middle of the night you don't have to panic. All you need to do is call (317) 882-2770 to speak with our Emergency Response team from DONE RITE Remodeling & Roofing Company. We'll send a team to your home or business for a roof inspection and repair to get you through the night. If a repair is not viable at the time due to severe weather or materials, we'll tarp the affected area to ensure your property is not further damaged before the repair can be completed. It's quick and affordable and only a phone call away!
So, irrespective of what kind of roofing issues you're having, you don't have to deal with them alone. Our 30 plus years of experience and many square feet installed make us the company to rely on for all your home or business roofing projects in Noblesville. Call (317) 882-2770, use our contact form below, or email us today and learn more about our services.
Don't confuse use with copycats. We're in the RED trucks.
And remember.
The job's not done unless it's DONE RITE!