Indianapolis Roofing Company, Indiana
Roofing Contractors
We know you have a lot of options for residential roofing companies in Indianapolis, Indiana. At DONE RITE Remodeling & Roofing, our residential roofing comprises the majority of the services we provide. As long-time roofers in the Central Indiana area, we understand the unique roofing needs of our Indiana communities. Wind, hail and even extreme heat and cold exposure are common weather conditions in Indianapolis that can wreak havoc on your roofing system. No matter your need - a FREE roofing inspection, emergency repair or tarping, complete roofing system replacement, or just want to enhance the look and value of your home, we're here to provide you with our integrity, experience, and reliability.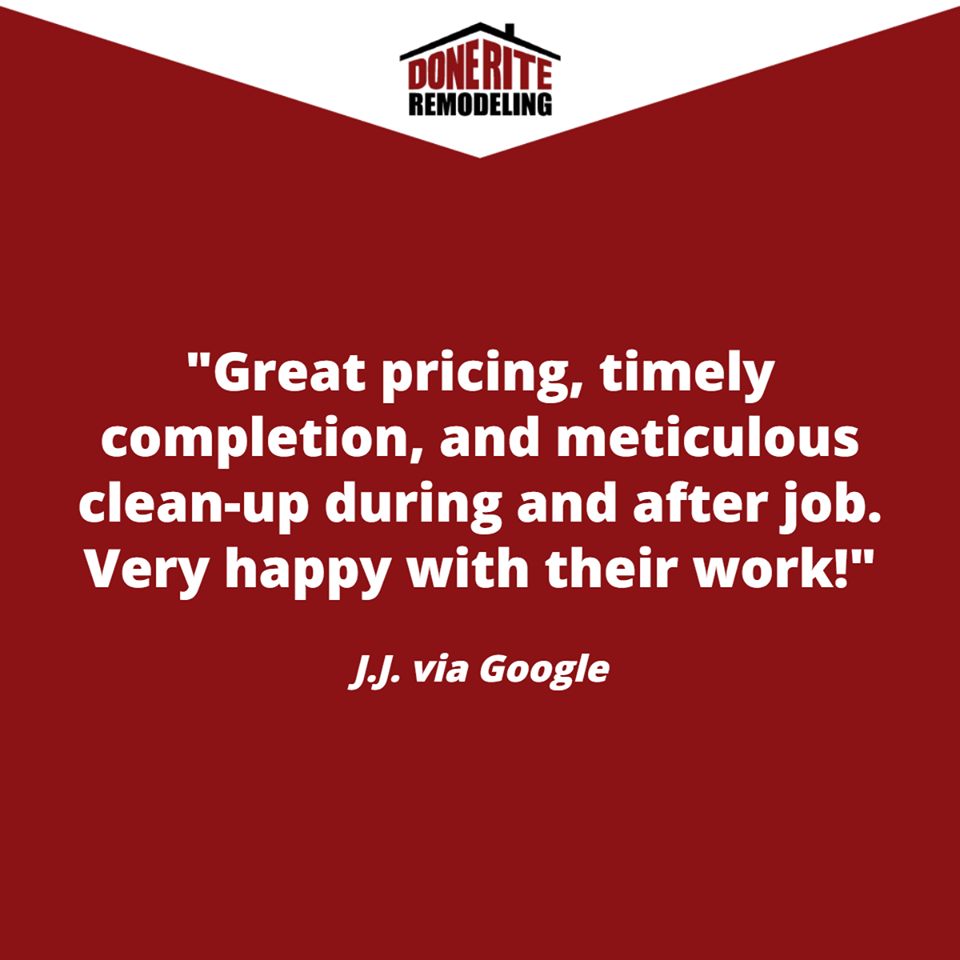 For more than thirty years, DONE RITE Remodeling & Roofing has been providing top notch, professional services to customers large and small. Our licensed, bonded, & insured company has the expertise, and the skill set needed for proper roof installations and roofing repairs. We use the best products, and equipment sold only to licensed roofing contractors in Indianapolis and the surrounding communities. If you need a quote, have roofing questions, or need emergency service, contact us today - (317) 882-2770.
Why Choose DONE RITE Remodeling & Roofing in Indianapolis, Indiana?
Best Price Guarantee.
Satisfaction Guaranteed!
Professional, Same-Day Service.
Fully Licensed, Insured & Bonded.
Necessary Resources to Ensure Satisfaction.
30+ Years of Experience with Roofing Systems.
Excellent Reviews on Google, Yelp! & Angie's List.
Recommendations Based on Expertise – Not Cost.
Our Services – Indianapolis, Indiana
New Roofs
Roof Repair
Roof Maintenance
Emergency Roof Repair
Our Roofing Systems – Indianapolis, Indiana
EPDM Roofing
Asphalt Shingles
Sheet Metal Roofs
Single-Ply Roofing
Roofing Materials
Here at DONE RITE Remodeling & Roofing, we are dedicated to using only top-quality roofing materials. Many roofing companies will try to use cheap roofing materials to lower total costs. Though this may sound tempting to the homeowner, cheap materials can cause many problems with your roofing system. We've seen many systems, newly installed, that have active leaks, missing roofing shingles, or damaged underlayment decking (the structure of your roof). Basically these cutting corners cause bigger expenses and trouble in the long-run.
Residential Roofing Cost
Where a new roof is guaranteed to end your roofing problems, Indianapolis roof repairs, when performed by a company like DONE RITE Remodeling & Roofing, represent the most cost-effective way to deal with a problem roof. When DONE RITE, a Indianapolis roof repair is a legitimate solution that, when correctly maintained, will last for years to come. As long as safety is not an issue, our skilled roofers will be glad to offer a roof repair rather a full roof replacement whenever possible. Whatever size problem, DONE RITE Remodeling & Roofing has the know how and the equipment to handle your issue in a professional and timely manner. We stand behind our work with our satisfaction guarantee.
Indianapolis Roof Maintenance – Indianapolis, Indiana
Indianapolis homeowners, business owners, and property managers know DONE RITE Remodeling & Roofing as the proven leader in all things Indianapolis roofing-related. They know us as the best provider's of preventative roofing maintenance programs. Our Indianapolis Roof Maintenance Programs are specifically designed to protect your roof from wear and tear associated with weathering and other environmental factors. Our comprehensive maintenance program will identify and address any minor issues long before they become big ones – possibly saving hundreds to thousands of dollars in roof repair costs. Contact DONE RITE Remodeling & Roofing today about the details of your Indianapolis Roof Maintenance Program.
Indianapolis Emergency Repair Service – Indianapolis, Indiana
The world definitely has a sense of humor and, at times, the joke is on us. Roofing emergencies late in the dead of night is proof of just how dark that sense of humor will be. But, irrespective of how mean-spirited circumstances seem to be, there's always DONE RITE Remodeling & Roofing Emergency Service. We are going to come to your home or business – accurately diagnose your problem, and repair regardless of the issue with your roofing. We literally take you from the beginning to the finish faster than you'd think possible – and the best part is? All of our work is guaranteed. So, when your next Indianapolis roofing emergency happens, call the pros at DONE RITE Remodeling & Roofing.
If you reside in Indianapolis or the encompassing communities, and have roofing needs of any type, from emergency roof leaks to new roofing installation, there's just one name you should know – DONE RITE Remodeling & Roofing. Our 30+ years of experience and satisfaction guarantee make us the roofer to trust for all of your residential, commercial, governmental, and institutional roofing projects. Contact us at: (317) 882-2770, use our contact form, or send us an email for a FREE quote today!
Don't confuse use with copycats. We're in the RED trucks.
And remember.
The job's not done unless it's DONE RITE!