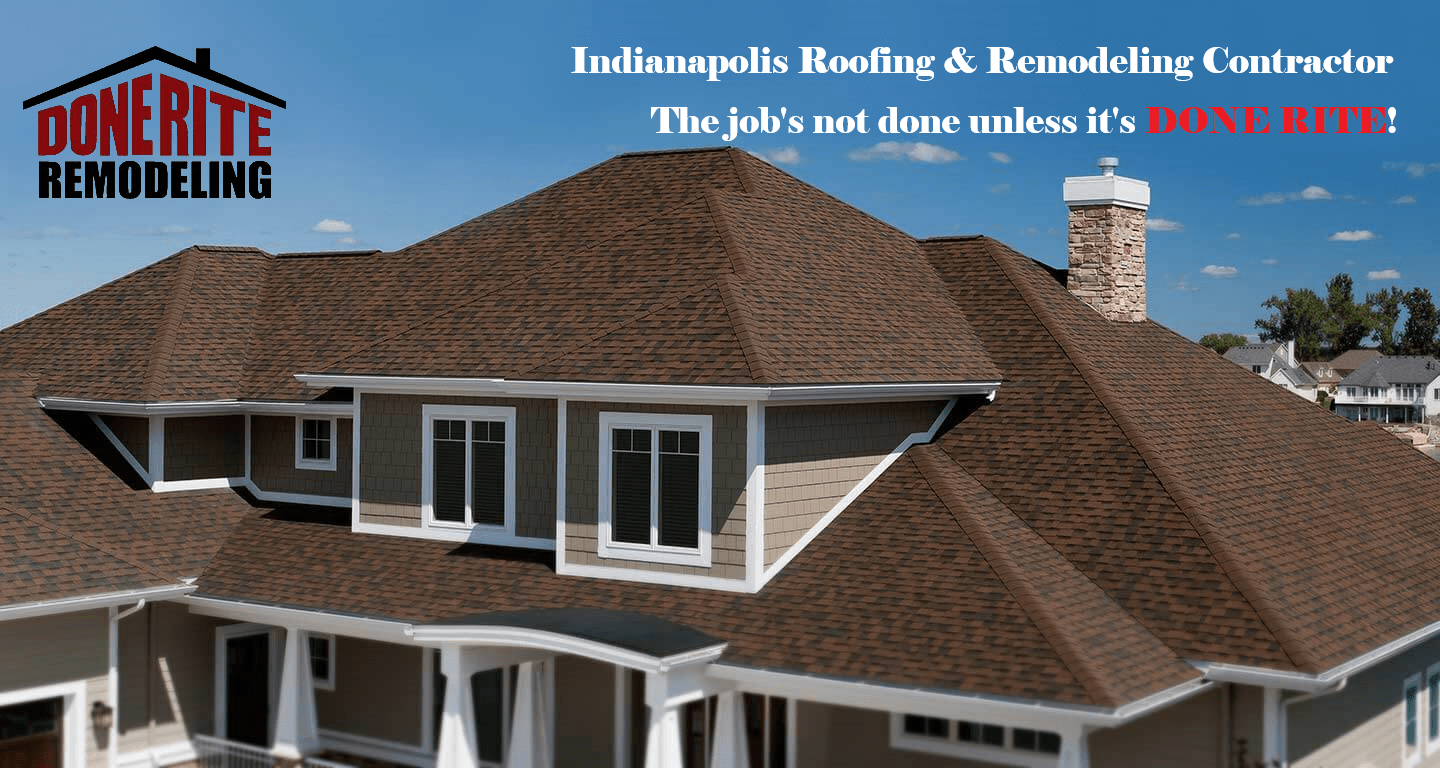 * Roof Replacement Price Match Guarantee! *
Indianapolis Roofing Contractor & Remodeling General Contractor
Indianapolis roofer for storm, hail, wind damage, new renovation or simply in need of a new Indianapolis roof replacement?
We have all your roofing needs covered. Just call for your FREE roof inspection and quote from a Trusted A+ Rated Indianapolis roofing contractor. All roofing services provided by local roofers near me and you in Indianapolis, IN and surrounding areas.
View Oakridge Shingle Colors Below
Streak Guard 10 Years
130 MPH Wind Resistance
Limited Lifetime Warranty
Full Service Indianapolis Roof Replacement & Remodeling Services
When you partner with DONE RITE Remodeling & Indianapolis Roofing Contractor for hail, wind or storm damage repair & roof replacement, there's virtually no limit to the roofing options we will provide. We can install the system you need. Our go to roof replacement shingle manufacturer is Owens Corning, but we can purchase roofing products from any manufacturer you prefer.
While Indianapolis roof repair and Indianapolis roof replacement is the majority of our work, we can also restore virtually any part of a home's exterior or interior. Products and services we will implement during storm damage restoration and remodeling work include:
Indianapolis Roofing, Siding, Windows, Gutters, Fencing, Decks, Baths, Kitchens, Basements All Interior & Exterior Remodeling And Much More.
The only Indianapolis roofing contractor to call when you want the job DONE RITE!
Why DONE RITE Remodeling & Indianapolis Roofing Contractor
Service
We ensure the highest quality and complete customer satisfaction, from all types of Indianapolis roofing replacement and Indianapolis roofing repair to full remodeling service.
Quality
When you deal with DONE RITE Remodeling & Indianapolis Roofing Contractor, you can expect the highest quality, unequaled workmanship and unequaled level of expertise.
Value
The value we offer extends beyond our pricing, it is the overall customer experience we have provided for over 3 decades in the remodeling and Indianapolis roofing industry.
Indianapolis Roofing Company, Indiana Roofing Contractor
We know you have a lot of options for residential roofing companies in Indianapolis, Indiana. At DONE RITE Remodeling & Roofing, our residential roofing comprises the majority of the services we provide. As long-time roofers in the Central Indiana area, we understand the unique roofing needs of our Indiana communities. Wind, hail and even extreme heat and cold exposure are common weather conditions in Indianapolis that can wreak havoc on your roofing system. No matter your need - a FREE roofing inspection, emergency repair or tarping, complete roofing system replacement, or just want to enhance the look and value of your home, we're here to provide you with our integrity, experience, and reliability.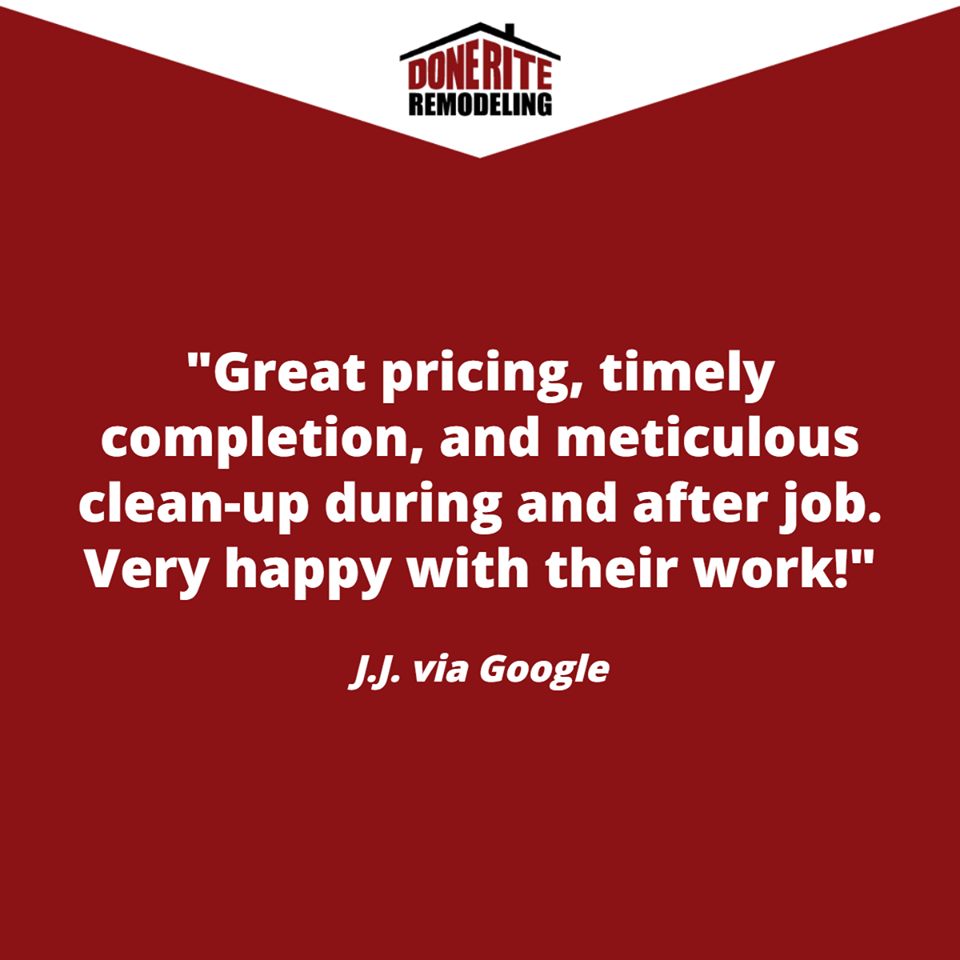 For more than thirty years, DONE RITE Remodeling & Roofing has been providing top notch, professional services to customers large and small. Our licensed, bonded, & insured company has the expertise, and the skill set needed for proper roof installations and roofing repairs. We use the best products, and equipment sold only to licensed roofing contractors in Indianapolis and the surrounding communities. If you need a quote, have roofing questions, or need emergency service, contact us today!
Roof Replacement (hail damage)

My wife and I thank you for the manner in which you furnished information in order for us to select the proper design and shingle color needed to replace our hail damaged roof. We believe the results are an architectural enhancement. Your response to our request for an estimate was timely, and the insurance company had no trouble with their audit of your roofing cost estimate, and the business transactions where timely. We appreciate the way your workmen approached the task and think you have a very good crew. We are pleased with our new roof. Lee and Martha, Greenwood IN
Roof Replacement (leaky roof)

Did an excellent job under very hot conditions. Started early on a Saturday to beat the 90+ heat as much as possible and squeeze in between rain storms. As the old roofing came off they put the debris into the dumpster and finished with a spotless clean up. I'll use them again if the chance comes up and I definitely recommend them to anyone else. Greg, Greenwood IN
Roof Replacement (selling home)

Amazing! We were selling our home and needed a new roof replacement. Robert Strickland came out, inspected our home, and provided us with a quote all within 1 day, it was more like a few hours. Two days later, I had a new roof. His staff was very quick and efficient, ensuring the roofing was properly installed and that my yard was clean of debris. I couldn't beat DONE RITE's price, either (So much cheaper than the competitors!). Call Bob; get a roof; be happy. Kate, Indianapolis IN
Bath Remodel / Flooring / Misc.

DONE RITE has completed several projects for me and my family over the past 5 years. Those included a full bathroom renovation, hardwood flooring throughout the whole house, major plumbing and electrical. They always complete the jobs on time and are meticulous about cleaning up after. They never cut corners and the owner guarantees quality. I would recommend DONE RITE to all my family and friends! Mark, Carmel IN
Hail, Wind or Storm Damage?
Has your Indianapolis roof been damaged by severe hail or wind? Are you unsure of the extent your Indianapolis roofing has been damaged?

Maybe it had been a nasty hail storm, high winds, or heavy rain, Maybe a tree has fallen on your roof.
If so, you're not alone.
We understand the strain and hardship which can result from a major weather event.
That's why we start by providing a free, no-obligation roofing inspection which will detail exactly what must be repaired. We promise we won't sell you something your roofing does not need.
DONE RITE Roofing Contractors Indianapolis & Remodeling Contractor service not only Indianapolis, Indiana. We also service the following and their surrounding areas.
A Premier Indianapolis Roofing Company
DONE RITE Your Insurance Claim's Specialist
Roofing
Driving anywhere through the Indianapolis and surrounding communities, you'll find that a lot of residential homeowners have chosen asphalt roofing shingles for his or her Indianapolis roofing. Asphalt shingles is additionally commonly selected for commercial roofing projects, both large and small-scale. The reason they're popular is that they are available in an assortment of colours, styles, levels of durability and have longer warranties for a fraction of the value of metal, slate, and tile. When installed by a knowledgeable and licensed Indianapolis roofing company, the normal roofing shingle successfully provides quality material at reasonable prices. Call DONE RITE, your locally trusted roofing contractors Indianapolis today!
Siding
If it's time for new siding, it's time to give DONE RITE Remodeling & Roofing Contractors Indianapolis a call! We'll walk you through all the different product options, explain our expert siding installation process, and make your home look new! Call DONE RITE, your locally trusted Indianapolis siding contractor today! We will provide you with a FREE no obligation home inspection and quote.
Gutters
Seamless gutters not only look great but they protect against common problems associated with sectional gutters. All our gutters are fabricated on-site in seamless sections. The only seams are on corners. Unlike other gutter & roofing companies near me, we install our seamless gutters with custom miters which not only looks good but is the best option against future leaks. We furnish a full guarantee on installment. We are a fully insured licensed Indianapolis Roofing & Gutter General Contractor.
Kitchens
We will come to your home and take precise measurements and discuss how you will be using your kitchen. The design process will now begin to ensure your kitchen space is renovated as you wish and DONE RITE. Following that, we will work diligently to ensure that your kitchen will look and work as you imagine. With both design and construction within the hands of one entity, there's one point of responsibility for quality, cost and schedule adherence - DONE RITE Remodeling & Roofing Contractors Indianapolis.
Bathrooms
The modern bathroom has become stylish and luxurious. Bathroom remodeling or building a replacement bathroom is one of today's hottest home remodeling projects. As a Indianapolis bathroom remodeling contractor, we will reconfigure floor plans, move walls, fixtures, and utilities, to extend floor area and space for storing. Whether you would like to transform all of your bathrooms or renovate your master bathroom, you'll trust DONE RITE's 30 plus years of experience to style a bathroom that's unique and within your budget.
Basements
Do you want to make sure that your property can get the finest services, especially when it involves remodeling? If so, then you won't have anything to stress about. Avail the services of DONE RITE Remodeling & Roofing Contractors Indianapolis today. We are a reliable contractor for basement remodeling services and other services in the Indianapolis and surrounding areas. In our years within the industry, we've acquired a tremendous amount of experience that involves handling the various styles and preferences of clients. We have the talent, knowledge, and techniques which will surely assist you. Contact us today!
TREE SERVICE Work Also Available
If, you have that unfortunate incident of a tree that has fallen on your home we have you covered. We can safely remove any size tree from your property or off your homes Indianapolis roof. We provide full cleanups and haul away tree service. Indianapolis' DONE RITE Remodeling, Roofing Contractor & Tree Service is your one stop shop. We can provide all of your tree service work for you, and repair any structural damage that has occurred to your house or roofing, while performing the shingle repair or a complete roofing shingle replacement.
Click on the Tree Service Logo below.
Don't confuse us with copycats. We're in the RED trucks.
And remember.
The job's not done unless it's DONE RITE!
Your locally trusted Indianapolis Roofing Contractor & Remodeling General Contractor
Our Indianapolis roofing company not only serves Indianapolis but all surrounding communities.