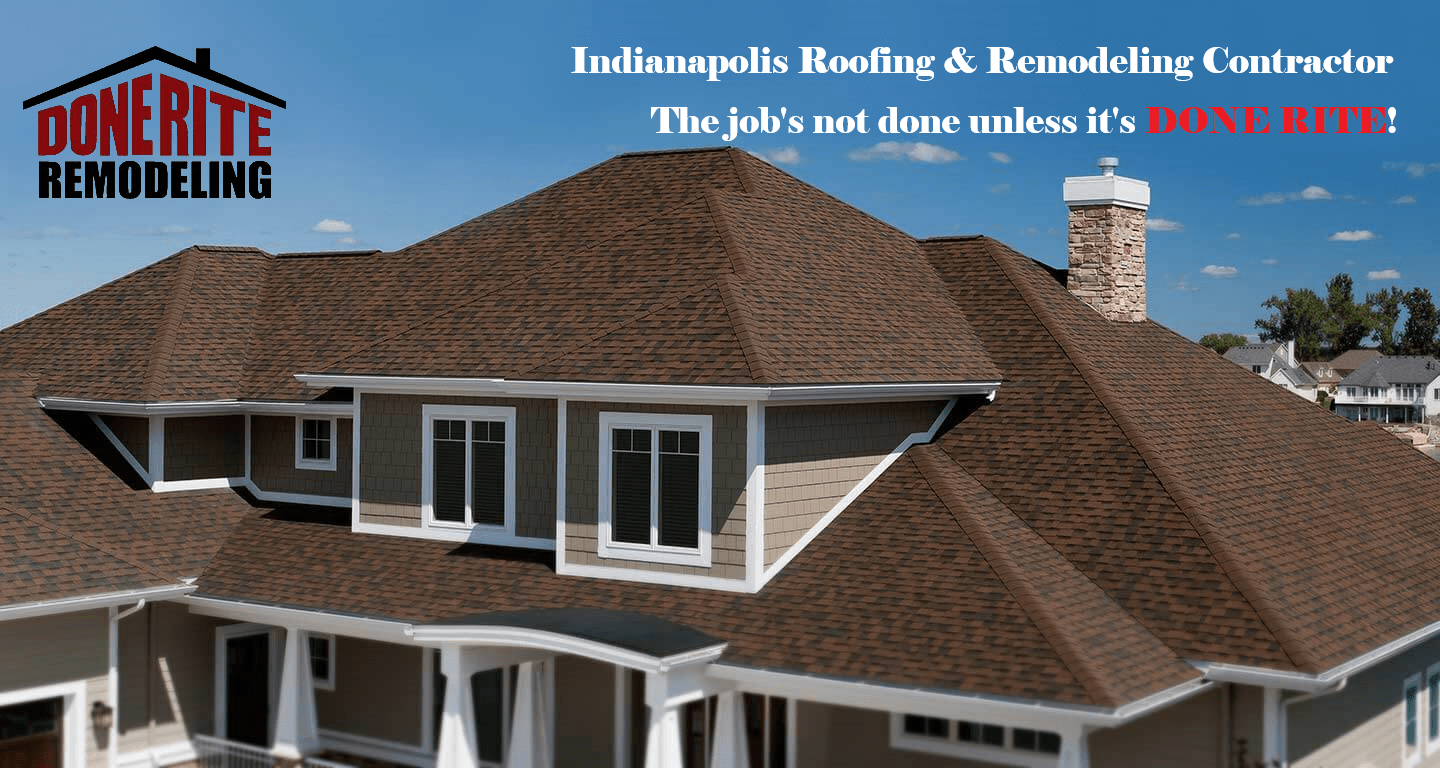 Camby Roofing Company
Camby Roofing Contractor
Best roofer Camby Indiana!
For over 20 years, DONE RITE Remodeling & Roofing Company has offered our full line of roofing services throughout Camby to all those in need – from residential to commercial customers, industrial, governmental and even institutional customers. There's not a challenge we cannot overcome and no job too big for our teams and our network of resources to handle efficiently, effectively, and affordably. We're your best roofing option for impeccable service and stellar workmanship – no matter where you are in Camby. One call to (317) 882-2770 and we've got your roof covered!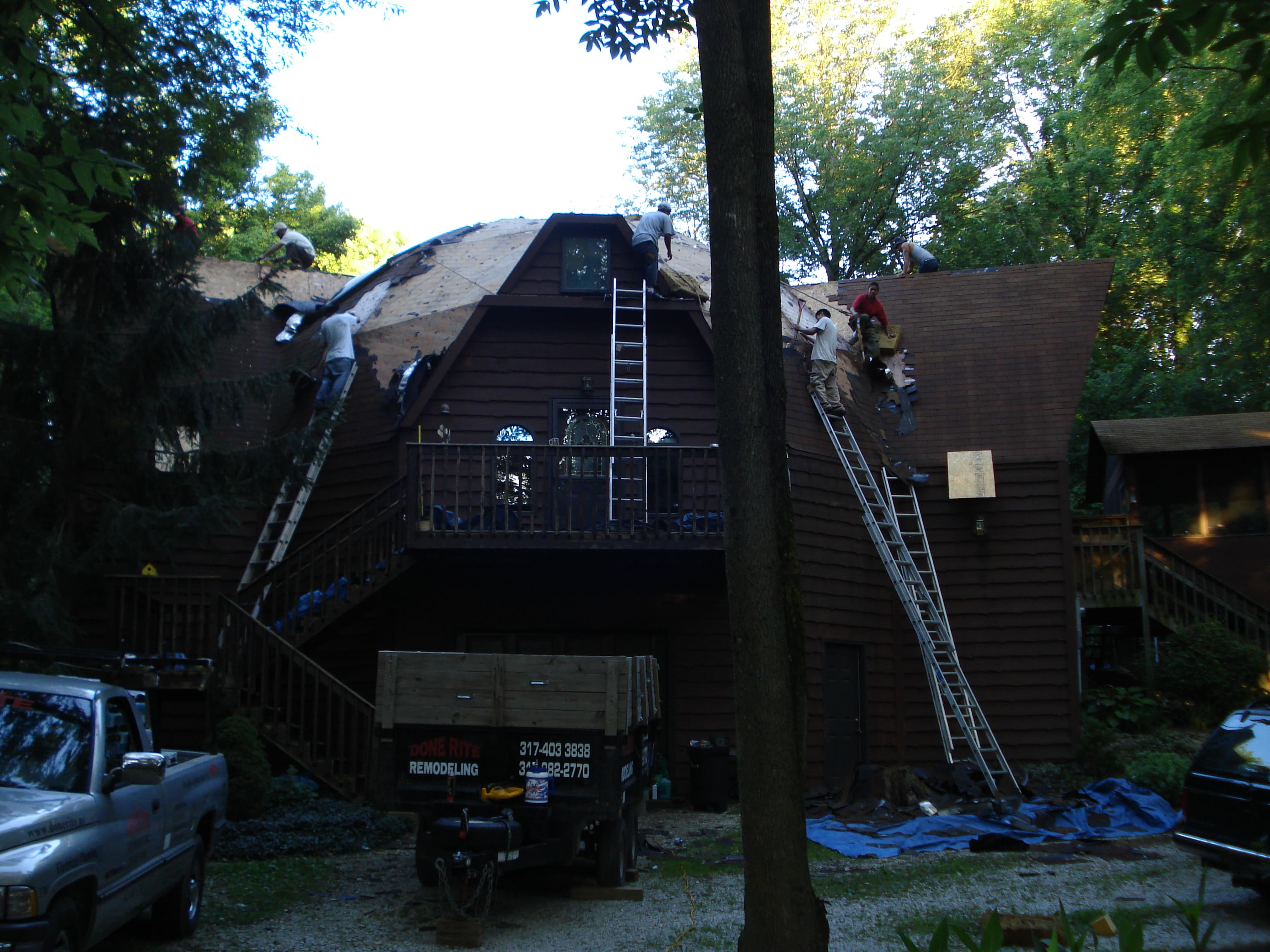 Regardless what your roofing needs, what type of material you're using, or how big or small the job at hand, DONE RITE Remodeling & Roofing Contractors has the team of roofers and the planning you need to ensure the job goes off without any problems. We've spent years refining our roofing processes to guarantee our clients the very best results – every project, every time. We can assist you with whatever your roofing throws at you and we're just a call away - (317) 882-2770.
Why

DONE RITE

Remodeling & Roofing Contractor in Camby, Indiana?
Best Price Guarantee.
Satisfaction Guaranteed!
Professional, Same-Day Service.
Fully Licensed, Insured & Bonded.
Necessary Resources to Ensure Satisfaction.
30+ Years of Experience as a roofer with Roofing Systems.
Excellent Reviews on Google, Yelp! & Angie's List.
Recommendations Based on Expertise – Not Cost.
Our Services – Camby, Indiana
New Roof Installation
Roof Repair
Re-roofs
Roof Maintenance
Emergency Roof Repair
Our Roofing Systems – Camby, Indiana
EPDM Roofing
Asphalt Shingles
Sheet Metal Roofs
Single-Ply Roofing
Camby New Roof Installation – Camby, Indiana
When you're looking at a new roof installation project in Camby, you need the very best roofing contractor in the area to assist you from day one – that's DONE RITE Remodeling & Roofing Company. With a simple call to (317) 882-2770 you'll have the top minds in roofing on your side to assist with all the details that go into such a large-scale job. From planning and roofing materials to work schedule and cleanup, we'll take care of it all while you're kept constantly in the loop through regular updates from our professional roofers. The process starts with a free quote and consultation about the best path forward for your new roofing installation, so make the right choice for your home or business today – DONE RITE Remodeling & Roofing Company.
Camby Roof Repairs – Camby, Indiana
Getting the best roofing repair possible means using the best roofer and is important when you're working with many modern roofing materials. They have their own different techniques and tricks that can deliver far better results, so it's important you choose a roofing contractor with the best roofers and a track record of success in Camby. DONE RITE Remodeling & Roofing Contractor has been delivering incredible roof installations of all kinds in Camby for over 20 years and have the devoted customer base to prove it. That's many of square feet installed and hundreds of happy, satisfied customers with repairs they can rely on for years to come, so make the call to (317) 882-2770 now and get the kind of service you deserve and want DONE RITE!
Camby Roof Maintenance – Camby, Indiana
Proactive roof maintenance is essential, no matter what type of roofing materials or property you own, but many ignore it or simply have no idea of the value it brings to their home or business over time. After all, keeping your roof as strong as possible for as long as possible is what maintenance from DONE RITE Remodeling & Roofing Company is all about. With a single call to (317) 882-2770 you'll have the best roofer in town on your roof inspecting for problems and correcting anything found. This happens as often as required and agreed upon, but most often it's a twice a year operation with the schedule worked out in advance, so you just sit back and relax knowing your roof is in the hands of the best contractor in Camby!
Camby Emergency Repair Service – Camby, Indiana
Experiencing a roofing emergency in the middle of the night is never a good experience, but it doesn't have to be a bad one – not if you make the call to DONE RITE Remodeling & Roofing Contractors Emergency Response Team (317) 882-2770. With just that one call, you can rest assured knowing the best roofing contractors in Camby is on the way to make things right and won't stop until they do. Even if the repairs are impossible at the moment, DONE RITE will securely tarp the area to ensure no more damage occurs until our team can return with the materials needed to make the necessary repairs. It's a reliable repair whenever you need it and it comes from the best roofer in all Camby – DONE RITE Remodeling & RoofingContractor.
So, regardless of what kind of roof-related issues you're facing, you don't have to face them alone. Our 30 plus years of experience and many of square feet installed make us the contractor to trust for all of your residential, commercial, governmental, and institutional roofing jobs in Camby. Call (317) 882-2770, use our contact form below, or send us an email to learn more about our services. Camby's #1 roofer!
Don't confuse us with copycats. We're in the

RED

trucks.
And remember.
The job's not done unless it's

DONE RITE

!
Click below to see our bath &amp basement remodeling commercial.